Shopify vs Magento: Which platform should my store run on?
A comparison of two of the leading eCommerce platforms
For years Magento was the first choice for many and today still is the world's biggest eCommerce platform powering more than 10% of all eCommerce stores in the UK.*
However, Shopify closely follows behind. in recent years, it has been challenging their competitors and has become the fastest growing platform. We can see that at one stage last year, Shopify surpassed Magento.
Both founded just one year apart and both seeming to do the same thing, it can be difficult to distinguish between the two. Is Shopify (or Shopify Plus) for you, or should your business run on Magento?
The Core Differences
Shopify is hosted by Shopify itself. It can be set up quite quickly and is arguably the 'easier' one of the two to use. This is because, to set up Magento, you need to set up your own hosting. Then install, setup everything else before you can even start building (or branding) your store.
So simply, if you don't have the knowledge and coding skills to manage the hosting, development and everything that comes with it, you will need a digital agency to create your Magento site. There is nothing wrong with this of course, in fact there are 150,000 skilled and certified Magento developers at your disposal as Magento boasts the largest eCommerce community. The only issue for you will be more cost.
Scalability
You have the potential to scale your business with both Magento and Shopify, but the way that each platform handles your growth is vastly different. Shopify offers numerous different plans and you can choose a plan that fits the scale of your business by either upgrading or downgrading. However, the grander options, such as Shopify Plus, come with extra features and lower credit card rates (as Shopify does take a percentage of order revenue), so the more you sell, the less you'll pay in fees per transaction.
Between 2016 and 2017, the number of websites on the entire internet that were using Magento rose by more than 48,000. While Shopify estimated total revenue in the second quarter was up by 75% from the previous year in 2016.
Both platforms offer a level for what you need but it's also good to bare in mind that Shopify also offers a Shopify Plus version. This can give you more flexibility to create what you need.
However if your website needs are very bespoke then we recommend Magento, purely because there's more flexibility around the platform (and it's far easier to adapt to feature requirements).
Design
As mentioned, Magento is very bespoke to your business (hence needing the developmental knowledge to build it). Business owners can customise their website to great lengths. But you can still design a great looking website through Shopify. The main stand out difference between the two, when it comes to customisation, is that you need advanced programming knowledge to use Magento while designing. Whereas with Shopify you really don't as they have made it much more accessible.
To get your design built and set-up, customised with your logo, colours and content, you will likely require the use of an experienced agency for either Magento or Shopify. However, once your design has been built and set-up, managing changes and tweaks to your design is a lot easier on the Shopify platform than it is on Magento. This will mean you might not need as much developer support for ongoing maintenance with Shopify as you do with Magento but may also mean you sacrifice complex front-end functionality that is easier to achieve with Magento's flexible system.   
Pricing
Shopify is a commercial product that you pay for on a subscription basis, and Magento Community is free and open-source software, however the Enterprise version is not and this can start from $40,000 a year. With Shopify, you pay a monthly fee, depending on the package you want and there are four plans. They range from $29 a month (starting with Basic Shopify) up to $2,000 (with Shopify Plus). The standard Shopify store is currently priced at $79 per month. All plans offer unlimited products and bandwidth, and the Basic, Pro, Unlimited and Plus plans come with an online store. However there are monthly fees to bare in mind.

As mentioned, Magento is free to download but you are responsible for your own hosting. Therefore, unless you're a Magento specialist, it is likely you will need to pay a developer or expert to integrate the majority, if not all, of your Magento components. Therefore it could result in it being quite costly. Taking your needs into consideration, it can cost between £1,000 to £60k+, depending on the level of complexity of the website, for instance if you require a custom theme, any integrations that are needed and so on. Both platforms require a paid investment, but they both charge in different ways
Managing Your Store
Once the site is live, you will need to be able to manage your store. Both Shopify & Magento, in the back end, have a Products section where you can add and edit products. Both offer a bulk upload feature. Further still, both have the capability to be linked to your stock management or warehouse data.
However, once the site has gone live, Shopify will arguably be the 'easier' of the two to manage. This is due to how user-friendly it is when adding or editing your products and categories. If you're not a pro coder, Shopify is great to use when it comes to managing your products. But of course, if coding is easy for you, this will not be an issue.
The Final Roundup
Each have their own impressive figures and have helped many businesses thrive worldwide. Magento predict that $101 Billion in Digital Commerce was sold by Merchants using their platform in 2016 and they anticipate this number to more than double by 2020.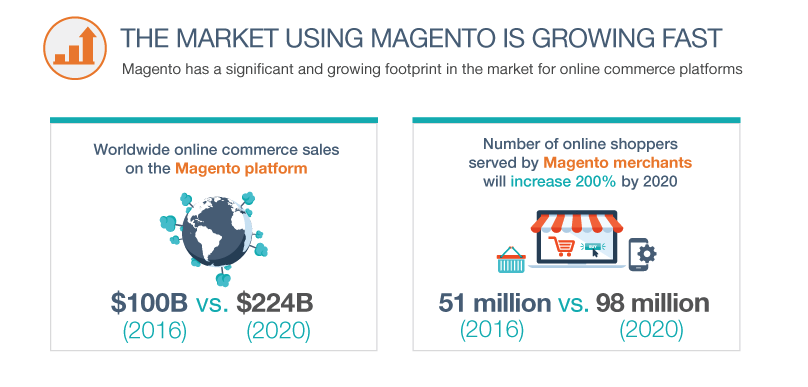 While Shopify advertise that over 400,000 people checked out three times faster while spending $30 millions, while using Shopify Pay and they now support more than 500,000 businesses in 175 countries.
The right eCommerce platform depends on the needs and nature of your business and the functionality you require - budget comes into it of course but this shouldn't be a primary concern. The main concern should be creating the best possible website for you business.
If you know that your store needs a lot of customisation and you have the resources to do this then Magento can be a great solution that will allow you to solve the most complex problems. However, if you are looking for the quickest time to market for your new store and you would like to focus on front-end design and development rather than hosting, infrastructure and your eCommerce requirements and not too complex, then Shopify Plus could be the best option for you.
If you've enjoyed reading this article and would like to discuss your next project in more detail with us please Contact Us or give us a call on 01233 800 991.